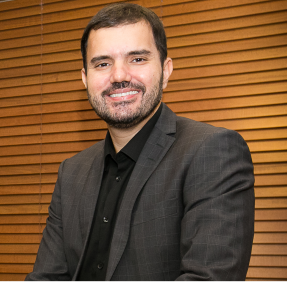 FÁBIO DE OLIVEIRA PAULA
QUADRO PRINCIPAL
fabioop@iag.puc-rio.br
Currículo Lattes

Has a doctoral degree in Business Administration from PUC-Rio, with emphasis on Strategy (2017). Received FAPERJ's Sandwich Doctorate Scholarship from September 2016 to August 2017, having conducted academic research at Aalto University School of Business (Helsinki, Finland). Obtained his Master's in Business Administration from PUC-Rio (2006). Graduated in Computer Engineering at the same University (2001). Conducts research and has articles published in high impact national and international academic journals and congresses in the areas of Innovation Management, Strategy, and Alliance Networks. Project Manager with PMP certification, worked as Project and Process Manager and, for 13 years, was responsible for in-company training for organizations of various industries; retail, foreign trade, marketing, education, information technology, and oil and gas. He is currently a Business Administration Graduate Program professor (Academic Master's program, Professional Master's program, and Doctoral program) at the IAG - School of Business at PUC-Rio.