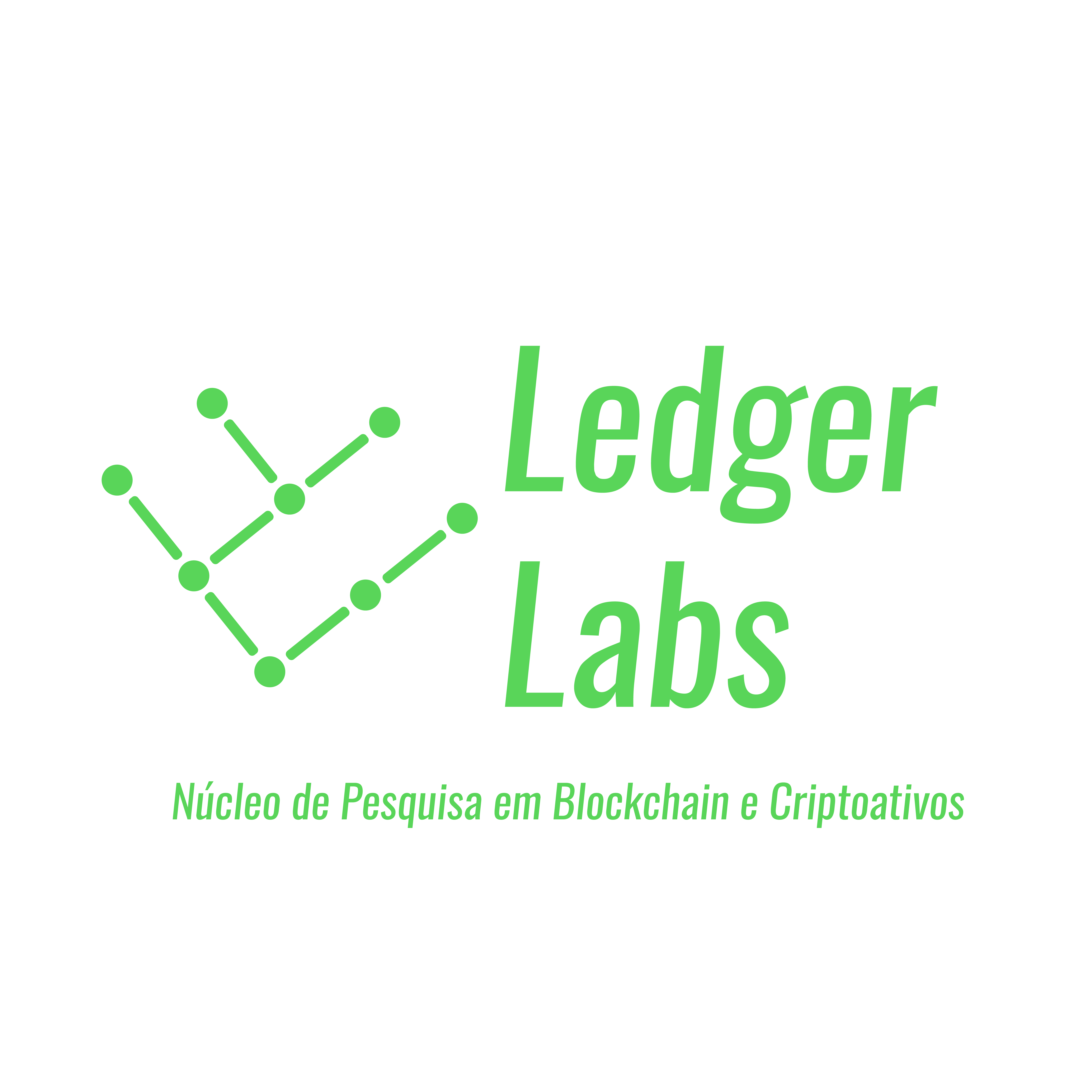 Ledger Labs
DESCRIÇÃO E OBJETIVOS
Este grupo de pesquisa se dedica a estudos avançados sobre a utilização da Tecnologia de Ledgers Distribuídas (DLT) em negócios e finanças, concentrando-se em pesquisas sobre blockchain economics, finanças descentralizadas (DeFi), governança de organizações descentralizadas autônomas (DAO) e ativos digitais, buscando assim contribuir de forma robusta e interdisciplinar com a literatura e o ensino sobre esses temas.
LINHAS DE PESQUISA ATUAIS
Métodos de consenso em blockchains;
Finanças descentralizadas – DeFi;
Estruturação e governança de DAO's;
DLT em energia;
Mercado e gestão de criptoativos;
Blockchain economics;
Prof. Dr. Leonardo Lima Gomes (coordenador)
Professor de Blockchain Economics no programa de Doutorado e Mestrado em Administração da PUC-Rio. Foi advisor da Exchange Flow BTC e advisor da Startup Goblock (desenvolvedora de aplicações em Blockchain). Também atuou como executivo e conselheiro nas Empresas IBM, Eletrobrás, Neoenergia, Lorenge, QGEnergia e Diferencial.
PUBLICAÇÕES RECENTES
Bastian-Pinto, C. ; Araujo, F. ; Brandão, L. E. ; GOMES, L. L. (2020). Hedging renewable energy investments with Bitcoin mining. Renewable & Sustainable Energy Reviews, v. 138, p. 110520.
Silva, P. V., Costa Neto A., Klotzle, M. C., Figueiredo, A. C., Gomes, L.L.. Does the cryptocurrency market exhibits feedback trading?. ECONOMICS BULLETIN, v. 39, p. 2830-2838, 2019.
Silva, P. V., Klotzle, M. C., Figueiredo, A. C., Gomes, L.L. (2019).  Herding behavior and contagion in the cryptocurrency market. Journal of behavioral and experimental finance, v. 22, p. 41-50.
Castro, J. G., Tito, E. A., Brandão, L. E., Gomes, L. L. (2019). Crypto-assets portfolio optimization under the omega measure. Engineering Economist, v.1, p.1-21.
Silva, P. V., Klotzle, M. C., Figueiredo, A. C., Gomes, L.L. (2019).  Volatility estimation for cryptocurrencies using Markov-switching GARCH models. International Journal of Financial Markets and Derivatives, v. 7, p. 1.
Berenger, F.; Penna, M.; Rocha-Pinto, S. R.; Gomes, L L. A tecnologia gerando novos arranjos organizacionais: Análise do modelo DAO sob a ótica da sociomaterialidade. Revista "Vianna Sapiens", v. 10, p. 28, 2019.
Araki, M. E. ; Silva, P. V. J. G. ; Gomes, Leonardo Lima ; BRANDÃO, L. . Modelo de Equilíbrio para Lançamento de Certificados de Energia Renovável na Blockchain. Cadernos de Gestão e Empreendorismo, v. 6, p. 66-83, 2018.
LOCALIZAÇÃO E CONTATO
IAG – Escola de Negócios da PUC-Rio
Endereço: Rua Marquês de São Vicente, 225 – Gávea
CEP: 22541-900 – Rio de Janeiro, RJ
Telefone: +55 (21) 2138-9200
e-mail: leonardolima@iag.puc-rio.br