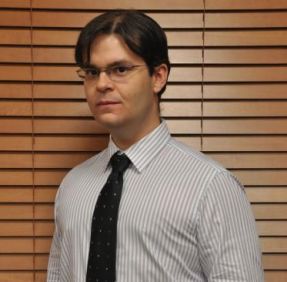 JORGE BRANTES FERREIRA
QUADRO PRINCIPAL
jorge.brantes@iag.puc-rio.br
Contato: (21) 2138-9200
Currículo Lattes

Doutor em Administração de Empresas com ênfase em Marketing pelo COPPEAD, URFJ (2010); Mestre em Engenharia Elétrica com ênfase em Métodos de Apoio à Decisão pela PUC‐Rio (2005); MBA IAG Master em Finanças Corporativas pelo IAG PUC‐Rio (2003); Graduado em Engenharia Elétrica com dupla ênfase em Telecomunicações e Métodos de Apoio à Decisão pela PUC‐Rio (2002); Professor do Quadro Principal do Departamento de Administração (IAG) da Pontifícia Universidade Católica do Rio de Janeiro (PUC‐Rio, 2010 até o presente), tendo publicado artigos em periódicos indexados internacionais e nacionais (Journal of Business Research, International Journal of Contemporary Hospitality Management, Brazilian Administration Review, Latin American Business Review, Revista de Administração Contemporânea, Revista Brasileira de Gestão de Negócios, Revista de Administração e Inovação, Revista Brasileira de Marketing, Revista Brasileira de Turismo, Revista FACES, Revista Iberoamericana de Estratégia, entre outros), um livro texto sobre Marketing (Administração de Marketing: Conceitos, Estratégias e Aplicações ‐ editora Atlas) e capítulos de livro internacionais. Consultor de Mineração de Dados (Data Mining) para o SAS Institute Brasil (2002); Consultor de  Mineração de Dados para a Advanced Solutions Rio (2004 a 2006); Instrutor oficial do SAS Institute Brasil para Estatística, Mineração de Dados e Programação (2005 a 2007), tendo lecionado cursos sobre esses três temas para diversas empresas em todo o Brasil, incluindo Banco Real ABN AMRO, Unibanco, Banco Itaú, Banco Ibi, Petrobrás, Golden Cross, Serasa, Telemar/Oi, TIM, Vivo, ANS, Aliança, ECAD, Universidade de Brasília etc. Professor de Modelagem Quantitativa, Inferência Estatística, Marketing de Relacionamento, Marketing na Internet, Marketing de Novas Mídias, Jogo de Negócios, Gestão de Marketing, Comportamento do Consumidor e Análise Multivariada de Dados para cursos de graduação e pós‐graduação (MBAs, mestrado e doutorado) do IAG, PUC‐Rio. Pesquisador associado do Núcleo de Pesquisa em Negócios Internacionais (NUPIN) da PUC‐Rio. Atua na pesquisa de mineração de dados, marketing, relacionamento com o cliente, comportamento do consumidor, marketing na internet, aceitação de tecnologia e difusão de inovações.